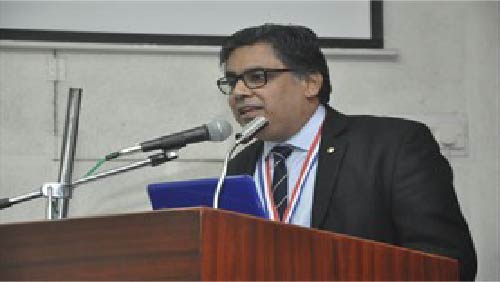 Immediate Past President, Shri. Dilip Mehrotra, Honorable recipients of the R L Jain memorial lifetime achievement award, Shri. A R Chitnis, Shri. K Chidambaram, members of the family of Late Shri. P C Jain, Honorable recipient of H S Rao Memorial award, Shri. Amit Gupta, my fellow office bearers, Vice President Shri. Uday Purohit, Hon General Secretary Shri. K K Nair, Immediate Past Vice President Shri. Vijendra Jain, Hon Editor MER, Shri. Hrishikesh Narasimhan, Members of the Governing Council, Chairmen, office bearers & staff of this Institute's Branches and Chapters, Honorable Past Presidents, Past Vice Presidents, Past Hon General Secretaries and Distinguished Members of this august body:
Someone said. "You can buy a person's time and work, but you cannot buy their enthusiasm, effort, and passion. Those are earned, and as such, given freely". This is what symbolizes all those who work in an honorary capacity. I have a host of people and an equally long list of their activities to applaud in this term; but my magnificent 7 are:
Shri. V Lakshmipathy Rao for putting his heart and soul into Glomars 2019.
Shri. S M Rai for his extraordinary work during INMARCO 2018.
Shri. Rajeev Nayyer for being his usual versatile self and playing multiple roles in INMARCO 2018, the newly installed Engine Simulator and the STCW work in IMO.
Shri. K Shankar for his untiring efforts during World Shipping Forum 2017, his work on the Membership & Admissions Sub Committee and the Cochin building.
Shri. Hrishikesh Narasimhan, the Hon Editor whose efforts are there for all to see.
Shri. Uday Purohit for his stately presence on various occasions, not the least of all his strategic discussions with the D L Shah Trust in getting the simulator in place.
Finally, the topper – who put in an average of 24 hours every week, and whose accomplishments need a power point presentation, the HGS, Shri K K Nair.
I proposed "TARGET 2020", built around the three pillars, when I took over two years ago:
Learning
Technology
Disruption
Learning
Much before the Common Era, Alexander the Great said, "I am indebted to my father for living, but to my teacher for living well".In each of us there is a teacher, one who is a mix of a child, an adult and a parent. If we could sift the various ego states as required, we will have done the society proud.
As a nation and as institutions we are making an extraordinary effort in bringing India's education up to the mark. Whether it is gaining traction remains a matter for debate. During the term I have been in touch with the offices of the DG Shipping on the issues of pre-sea (undergraduate) courses and the upgraded education (essentially Certificates of Competency). This was much on the lines I expressed during the AGM in September 2017. One of the key recommendations I made in April 2019 was to have the Orals examination as an exercise of friendship between the examiner and the candidate. Instead of asking direct questions, the candidate may be asked to relate his story of 12 to 18 months on board, wherefore the examiner can then softly probe and link it to the function.
On another note, I have been working with University of Mumbai on the issue of engineering degree equivalence, since 2015, which would give recognition to many in the fraternity. I have made my last and final submission to Mumbai University on September 25th. The file now rests with the office of the Vice Chancellor, Mumbai University.
Technology
I have often spoken of Technology, which as we know is evolving by the day. A young engineer would grow to be a lot more competent if a greater proportion of his learning constitutes a paradigm shift in the learning processes, with two thirds of his time on board modern day ships. In here, we have now installed a modem full mission engine simulator, with a generous contribution of One crore from the D L Shah Trust. It is now used for training sea going engineers, and I have in my letter of April 2019 asked DG Shipping to consider 20% credit to the engineering examination for simulator driven exercises.
As you all know, I had taken the opportunity to write to the Honourable Prime Minister, Shri Narendra Modi, after his election, and offered free counsel. I sought his intervention on reforming the education system, the employment process and infrastructure development. I see that technology is the way forward, and the succeeding set of office bearers, led by the President-elect are already gearing up for such a revolution.
Disruption
"It is no use going back to yesterday because I was a different person then", goes the saying in Alice in Wonderland.
I am currently reading a bit of history, "Glimpses of World History" by Jawaharlal Nehru and the other, "Second Hand Time" by a Russian Nobel laureate, Svetlana Alexievich, simultaneously. While Nehru writes on the way the world evolved, Alexievich writes on the stories of people who lived through a time of political upheaval – the fall of the Soviet Union and the two decades that followed it.
I expressed my definition of disruption in September 2017, essentially as a process which initially looks innocuous but gains traction against contemporary logic and eventually leaves obsolescence in its wake. In both the above books I find visible traits of how society faced disruptive processes that dramatically altered life for the people. We have to expect disruption in our lives all the time and stay alert. We are all subject to shelf lives, time catches up. I mean, if we wish to speak to the future, we have to reinvent ourselves.
You may recall my speech of September 2017 the changes that could impact us, such as the phase out of the facilitation centres (and loss of revenues), the long pending case of the Cochin building, which lies in a dilapidated condition, but yet incurring expenses, with no revenue. We are left with an asset in a difficult economy.
Keeping such a logic in mind, we have taken a few key decisions during the term (a key component here is that people chosen for specific tasks are by name and not by position, thus ensuring that they remain on these committees until the project is completed)
Cochin building is all set to be sold, the paperwork falling in place. A team of people, comprising Shri K A Varghese, Shri Mathew Koshy and joined lately Shri K Shankar, Shri K Krishnan and Shri Uday Purohit are working on it as a separate assignment to complete the process. This will infuse some liquidity into our fold.
We are currently in discussion with the celebrated Dr. Ravi Mehrotra CBE, Executive Chairman of The Foresight Group for support on the refurbishment of the Auditorium. A committee comprising Shri. Uday Purohit, Shri. Rajeev Nayyer, Shri. Kushal Roy and Shri K Shankar have prepared a proposal which has been submitted to the office of Dr. Mehrotra. I have roped in Shri V K Singh as the envoy for the project as he has a close rapport with Dr. Mehrotra. In my most recent conversation, Dr. Mehrotra has once again confirmed his commitment to the project. We have since obtained a few quotations for the refurbishment work.
You may have noticed that we have put in a lot of effort in sprucing up this building and its amenities, i.e. the third floor, the rest rooms, the façade and the driveway.
We have been very alert to the changes that were required to be instituted in our Training Centre. We have a new Director, Shri Rajesh Malhotra who has taken charge in June 2019, following a structured interview and recruitment process.
You may be pleased to note that the Institute has won the rights to host the World Maritime Technology Conference (WMTC) in 2024. The WMTC Steering Committee seeks our support to being a part of Working Groups (WG) and Special Interest Groups (SIG) on modern technology issues such as underwater noise, Arctic shipping etc. Our association with IWCEM (International Workshops, Conferences and Expo for Military and Marine Applications) would serve us well in the WMTC Forums.
As I prepare to lay down office, I thank you all (and the Administration led by Shri D Shetkar), for the opportunity given to me to serve the Institute once again. I shall be failing in my duty if I do not particularly thank the spouses, including my wife Uma, who willingly have given permission to the members for spending their free time working for IMEI.
My advice to the President elect and his team would be to echo what George H W Bush offered his successor, Bill Clinton in January 1993, "There will be very tough times, made even more difficult by criticism you may not think is fair. I'm not a very good one to give advice; but just don't let the critics discourage you or push you off course."
I wish you all and your families a very happy festive season ahead. God speed, Good luck.
Thank you, Jai Hind.