By Michael Kimmelman
Published Feb. 19, 2022 Updated Feb. 21, 2022
Architects and engineers were called upon to solve these riddles. Nehru thought a cosmopolitan India needed to clear the architectural slate and erect modern temples to global commerce and industry. To him, Le Corbusier's city of Chandigarh was admirably "unfettered" by history. Mahatma Gandhi had another idea. Gandhi believed an architecture of post-colonial self-determination depended on local traditions and tapped into native veins of handicraft and village culture.
How these visions were reconciled runs as a motif through "The Project of Independence." The show oddly omits an obvious
example, the Gandhi Memorial Museum in Ahmedabad, Charles Correa's first major independent project, which Nehru inaugurated and loved. Stierli stresses other cases like New Delhi's Hall of Nations. Designed and completed in 1972 by Raj Rewal and the great structural engineer Mahendra Raj, the hall — a series of truncated pyramids, its free-span interior crisscrossed by oversized ramps — was the centerpiece for an international trade fair marking the 25th anniversary of Indian independence. Indira Gandhi, Nehru's daughter and India's third prime minister, cut the ribbon at the opening.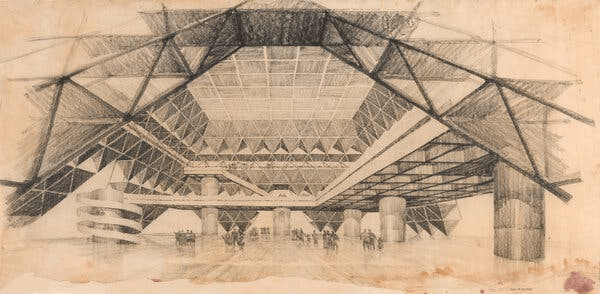 Perspective drawing of the Hall of Nations, in New Delhi, built in 1970–72 by Raj Rewal (architect) and Mahendra Raj (engineer). Credit…Musée National d'Art Moderne, Centre Georges Pompidou, via Museum of Modern Art, New York.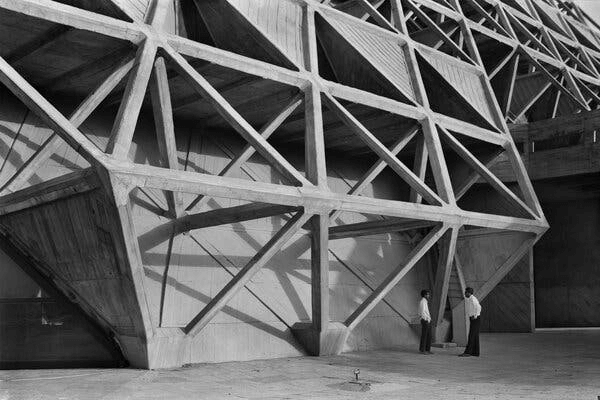 Interior view of the Hall of Nations in New Delhi, seen in 1974. which was demolished in 2017. Credit…Madan Mahatta/Photoink, via Museum of Modern Art, New York
Rewal and Raj had imagined using steel. But because there wasn't enough of it at the right price in India — and no commercial space frames were available in the country for a structure the size of a football field — the hall was redesigned in concrete, engineered to suit what India did have in abundance: manual laborers, large numbers of them, casting each module one at a time, on site, by hand.
What resulted was a tour de force of structural expressionism, a handcrafted variation on industrial-scale Brutalism that split the difference between Nehru and Gandhi.