Full Mission Engine Room Simulator installed at IMEI(I)'s Training Centre at Nerul, Navi Mumbai (Reported by Krishna K Nair)
A Full Mission Engine Room Simulator (FMERS), was installed and commissioned at IMEI House, Nerul, Navi Mumbai, on 07 March 2019.
IME(I) gratefully acknowledges the most generous support of the D L Shah Trust, Mumbai, which made possible the setting up of this FMERS at IME(I)'s HO and Training Centre. To the Trustees of the D L Shah Trust , to whom we remain indebted, goes our biggest and most heartfelt 'Thanks'.
The acquisition, represents the fulfilment of IME(I)'s long-standing need for a FMER Simulator & makes IME(I) a 'one stop shop' for the CoC Preparatory Courses that IME(I) run.
This DNV- GL certified, FMER Simulator meets and exceeds current STCW requirements for ER Simulator Courses (at both the Operational and Management levels), those described as at IMO model course 2.07 (2017 Edition) as well as DGS guidelines for approval of Simulator Courses and facilities.
The Kongsberg, Norway, make K-Sim® Full Mission Engine Room Simulator is a dynamic , real-time, process based, High Fidelity simulator based on real engine physics that enhances realism in training.
This FMER Simulator simulates the latest L-11, MAN 6570 ME Engine for a Suezmax Crude Carrier and runs the most recent version of the K-Sim® Simulator OS & simulation software.
Simulations include overall running of the engine, its subsystems and crisis management exercises.
Advantages of FMER Simulator Based Training
A Full Mission Engine Room Simulator (FMERS) enables high quality training in every aspect of the complex behaviour of a ship's engine room machinery; from single sub and auxiliary systems to the overall running of operations.
A FMERS offers a physical familiarity with the real shipboard environment and includes a fully equipped engine room, engine control room, interactive mimic panels, consoles and an instructor room.
Simulator based training , vis-à-vis conventional training, offers a structured, experiential level of training, better suited for adult learning.
Simulation offers learner participation. It provides an opportunity for the learner to apply theoretical knowledge by performing critical operations ; quickly learn from any mistakes without serious implications ; develop and hone attitudes for situations that demand complex decision making and gain vital skills crucial for handling emergencies.
Simulator training is an effective way to build competence and confidence & maximise performance leading to enhanced operational safety and efficiency.
Learners whet their hands-on and thinking skills; demonstrate knowledge-in-action ; use standard ship board operating procedures to address malfunctions / crisis situations and learn the importance of effective communication in their decision-making.
Simulation learning can be customised to suite beginners, intermediates and experts to hone their skills.
Feedback can be given to learners immediately and allow them to understand exactly what went wrong and how they could improve.
The new Simulator Centre at IMEI House consists of four acoustically isolated spaces or rooms, namely the
Engine Room ( ER),
Engine Control Room ( ECR)
Instructor Room / Station
Briefing Room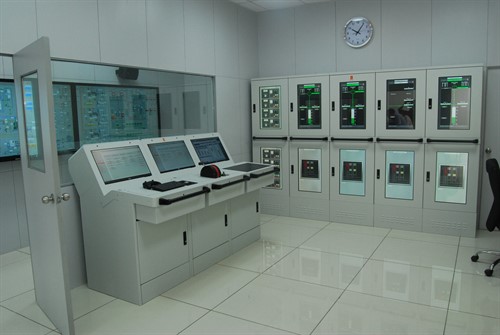 1. The ER
Four nos., 'Big View ®' 65-inch touch screen 'mimic panel' monitors make up the Engine Room, with its interactive and schematic display of all ER systems and subsystems . Along with the LOS (Local Operating Station) the 'Big View"® can be used for the operation of the ship's machinery and subsystems, mimicking local ER operation of machinery on a ship .
An, included, 3D Walkthrough presentation of selected Engine Room spaces allows the student, a very realistic,3D, virtual, 'walk around' of ER spaces and enables the operation of machinery (e.g. opening / closing valves, switching on/off equipment et al ),using hand held X-Box controls.
Sound systems and alarm annunciators complete the simulation of an ER.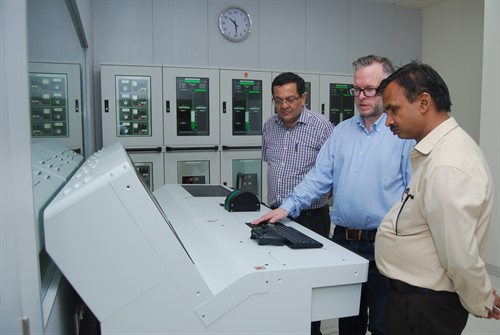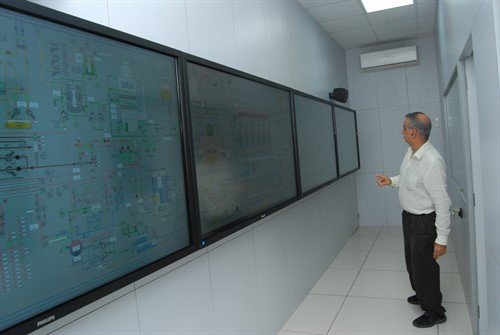 2. The ECR
Housed here are three touch screen Control Room Consoles ( Data Chief® and Big Chief®) & five in number touch screen Main Switch Board consoles that display the various (switchable) main machinery controls and power management ( generator) information respectively , much the same way as one would expect to see in a ship's Engine Control Room .
The five MSB consoles can display a total of 12 nos. console information .
3. The Instructor Room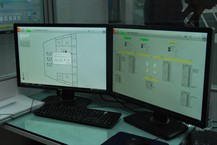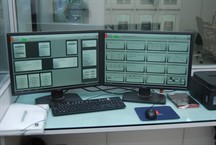 This consists of an instructor, monitoring and assessment system that allows the running of customised exercise modules and scenarios based on various variables and inbuilt malfunction setup situations which require student action. The station can also be used to transmit customised 'e – coach 'messages / instructions to the trainee .
Recording of training exercises enables reruns and its review at a later stage.
4. Debriefing Room
This room is equipped with a white board , LCD projector / laptop & provides for a recapitulation , review or a rerun of the student exercises.
This simulator is something that each one of our 11500 + members should be rightfully proud of. It represents the best in class and most advanced FMER simulation technology available in the market today.